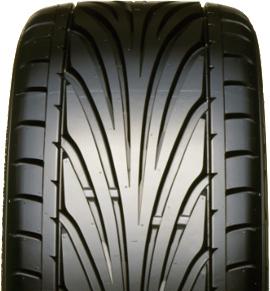 When it comes to Tires we all have our favourites, and depending on the application some are recommended more than others. However, when it comes to the ultra high performance catagory of street tires, few can compare to the Toyo T1 series of tires.  Over the years our customers have given us great feedback on the Toyo T1, T1S and its current replacement the T1R.  We have fitted these tires on cars ranging from Sport Compacts, Luxury Sport Sedans Domestic Muscle and even on some Euro Exotics.  The feedback has been positive every time.
A little bit of info on the design:
"Generation S" Silica-Reinforced, High-Grip Tread Compound – Increased silica in tread compound improves wet performance while providing excellent dry performance.
Refined Unidirectional Tread Design – Provides excellent dry and wet performance with a modern design.
V-Shaped Main Grooves – Disperse water for better wet performance.
Rigid Shoulder Rib-Bands – Improve cornering for exceptional dry performance. Reduce irregular wear for a smooth, quiet ride.
Parallel Shoulder Slits – Help reduce irregular wear.
Contact us for more info.