Hawk Performance brand disc brake pad products are owned and manufactured by Wellman Products Group, the world's leader in severe-duty friction products. For nearly a century Wellman Products Group has engineered and manufactured severe-duty friction products for brakes, clutches, transmissions, and driveline components. Wherever there is acceleration or deceleration, you will find Wellman Products Group.
Wellman Products Group is renowned for providing engineered solutions to original equipment and aftermarket customers for products that perform in demanding aerospace, on-highway truck, agriculture, construction, mining, powersports, motorsports, automotive,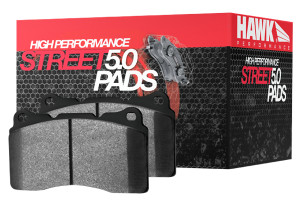 military, industrial, and specialty applications. With our exceptional research and development programs, we can provide friction materials designed to improve power management for any friction application.
Wellman Products Group introduced Hawk Performance high performance disc brake pads into the Motorsports arena more than 15 years ago and the brand has outperformed the competition and gained a loyal race and street following. (Source.)
SPI recommends Hawk HPS brake pads. These brake pads are low noise and low dust making them perfect for street use while increasing stopping power.