Skunk2 has been tuning and making high performance parts for Honda and Acura vehicles since 1994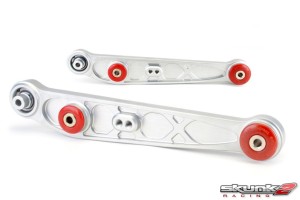 and has been wowing enthusiasts with their innovative products from the start. A company that prides itself in being enthusiasts making parts for enthusiasts, Skunk2 has definately accomplished that goal and has been raising the bar year after year ever since.
Skunk2 facts:
Since 1995
We have been developing and innovating high performance engine parts. Such notable innovations include being the first US based sport compact performance company to offer CNC billet machined timing gears for Honda engines.
• 1996
We developed parts for several championship touring car teams in Asia; supplying them with racing cams, valvetrain, and various suspension parts.
• 1997
We began supplying parts to Honda touring cars in the USA, racing in the Speedvision World Challenge series. Also in 1997, the decision
was made to build Project Beta (aka the Skunk2 Integra), a road-race car converted into an All-Motor drag race car utilizing the parts we had developed for touring car racing. Little did we know that Beta would help pioneer the All-Motor class and revolutionize import drag racing.
• 1999
We continued in drag racing with a perfect season.
• 1999
The first US based performance company to use "chill cast" billet camshafts on Honda engines
• 2000
The Skunk2 Integra was the first naturally aspirated car to run 10 seconds; it would take another year and a half for the competition to do the same. 2000 also marked the beginning of our active involvement in World Challenge racing.
• 2000
The introduction of the first "cast" high performance aluminum manifold for Honda engines
• 2000, 2001, and 2002
All Hondas finishing on the podium in World Challenge utilized Skunk2 parts or Skunk2 engines.
• 2003
We moved to a new state-of-the-art facility in Southern California that marked the birthplace of the potent Civic RR and SiR. The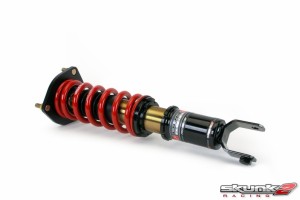 introduction of Project Delta and K-Power engines marked the return of Skunk2 to the drag racing; as we finished the year with 4 wins out of 5 races with 4 new records.
• 2005
Marked the return of Project Beta and the Skunk2 Team once again redefined the standard of speed and performance by smashing its own records.
• 2006
Skunk2 introduced the M3 Killer TSX, the 650 whp RSX-T, the race bred Civic SiR2 Time Attacker, and the wicked Fit R.
• 2007
Skunk2 unveiled several new and exciting project vehicles. We want to thank all the people that help make these vehicles possible, especially our sponsors and our team members. And we also want to say thank you to all of our loyal fans and customers!
Today
We are continuing our tradition of innovation by introducing a new line of engine components made from a proprietary aerospace thermo-polymer and also developing camshafts utilizing our Amax and Fast Ramp technologies.
(Source.)
SPI recommends Skunk2 Racing Throttle Bodies and Intake Manifolds. Skunk2 Racing has applications for many Honda and Acura models.