Exedy Racing Clutch.
Exedy info: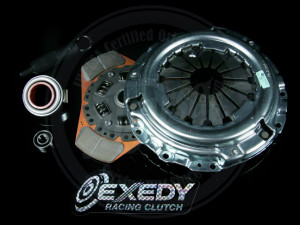 EXEDY Globalparts Corporation (USA) is a wholly owned subsidiary of the EXEDY Corporation of Japan. EXEDY (Japan) was founded in 1923 and its clutch manufacturing business and prominent brand name Daikin Clutch are known throughout the world for supplying quality powertrain products. Our pursuit of perfection and the assurance of safety underlie our famed quality and reliability. Our advanced engineering and patented innovations have made us the leading OEM manufacturer in the world for Clutches and other powertrain components.
EXEDY is also the undisputed world leader of performance sports and racing clutches.
EXEDY Globalparts Corporation has evolved from the business known as Daikin Clutch Corporation. All EXEDY manufactured products still carry the famous Daikin winged logo.
The US business was established in 1967 and EXEDY/Daikin products have been manufactured in the US since 1988 for both OEM and the Aftermarket.
The EXEDY Group supplies Manual Clutches, Flywheels, Torque Converters, AT Plates or other advanced Powertrain Components to all 11 vehicle manufacturers in Japan as well as many other vehicle manufacturers, construction / machinery industries in the world including GM and Ford. EXEDY Globalparts (USA) now distributes all EXEDY, Daikin and Dynax (AT related) products to the aftermarket for all of North, Central and South America.
The full range of products available through EXEDY Globalparts Corporation includes:
•A full range of clutch kits to suit Japanese, US domestic and European applications.
•Sports clutch kits with organic, cerametallic and carbon friction material in single, twin, and triple plate configurations featuring chromemoly flywheels.
•Dynax branded OEM quality friction plates and steels.
•Clutch forks
•Clutch thrust release bearings
•Clutch cables
•Clutch master and slave cylinders
•OEM standard replacement flywheels
•Heavy duty class 7 & 8 clutch sets
(Source.)
SPI recommends Exedy lightweight flywheels. These one piece forged unit's light weight will give your car greater engine response helping you get into your engine's "sweet spot" much more quickly.